This post covers different ways stone can be incorporated into a timber frame design.
First, imagine a fabulous stonework foundation facade that is also incorporated into the post base design. Can you picture it?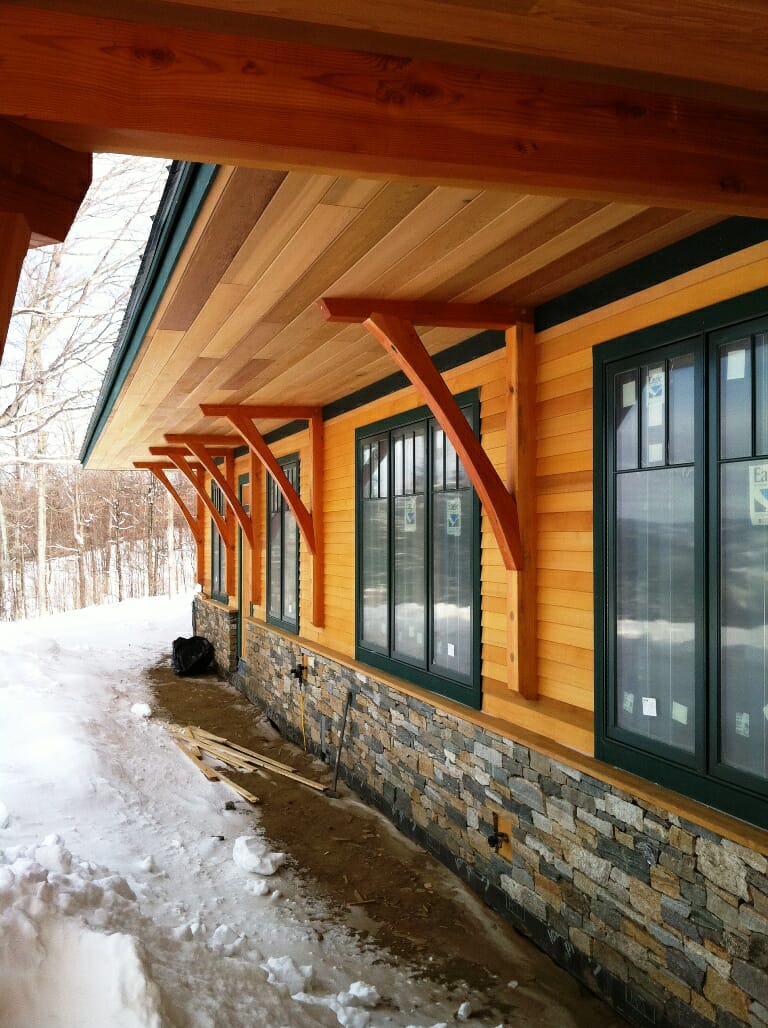 Viola!
The masonry stonework doesn't actually support the timber posts, but the design makes it look like it does. Would you like to know what is going on….what you can't see? Where the heck is Jessie? (She is our engineer)!!
Each post, as you can see, has a decorative post base, but what you see here isn't supporting the posts; it's what you don't see.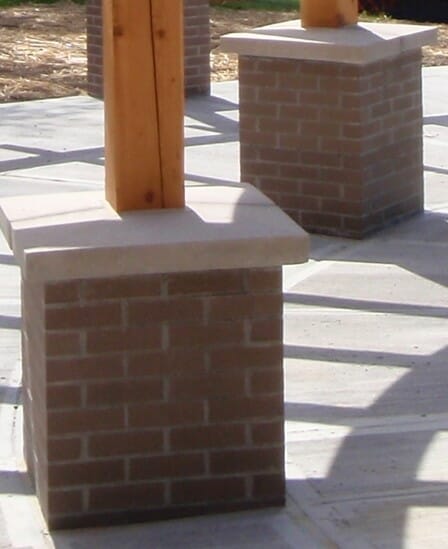 I'm not sure of exactly what is going on behind the brick stone work and concrete cap, but I bet it is something like this.  The timber post isn't hitting the ground, it is braced. See below:
The support footing, with a steel rod and washer attachment, is holding more than the engineered value.
It's important that the installation of the post base is done correctly. If it's not, the footing may hold moisture and if the moisture directly touches the timber, it will wick up the wood, rot, and potentially fail. No one wants any part of that! So an inspection is done prior to installation to make sure everything will get done correctly.
Back to the stunning (and award winning) post and beam residence from the beginning of this post. Sometimes including stone work in the interior of the home, in addition to the exterior, is the way to go. Agree? That's what Bonin Architects did for these clients – let's take a look.
The canted timbers connect at that stunning fireplace in the center of the home. One of my favorite details in this home is the bookcase insert in the fireplace. The design details were clearly well thought out.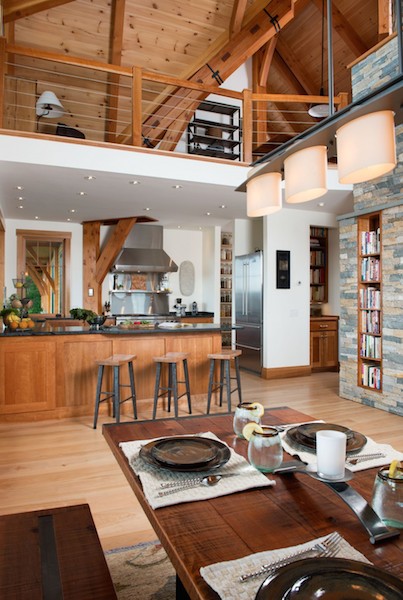 The timbers are douglas fir with cherry keys, and the cabinetry is also cherry. The dining table has a rustic feel with a dark stain that adds depth to a space with predominately light-stained wood. The stone counter-top in absolute black is subtle, which is all it needs to be. (It's honed)!!
So many of the accent pieces are dark; the steel strapping on the timbers, the table inserts, and even the lighting. Contrast is very important – too matched up can be boring (just my opinion).
Thank you for stopping by our Timber Framer's Blog! If you like this post, or have any timber work questions, we invite you to get in contact, ask an expert, or share your thoughts in the comment section below!