Everything You Ever Wanted to Know about Reclaimed Wood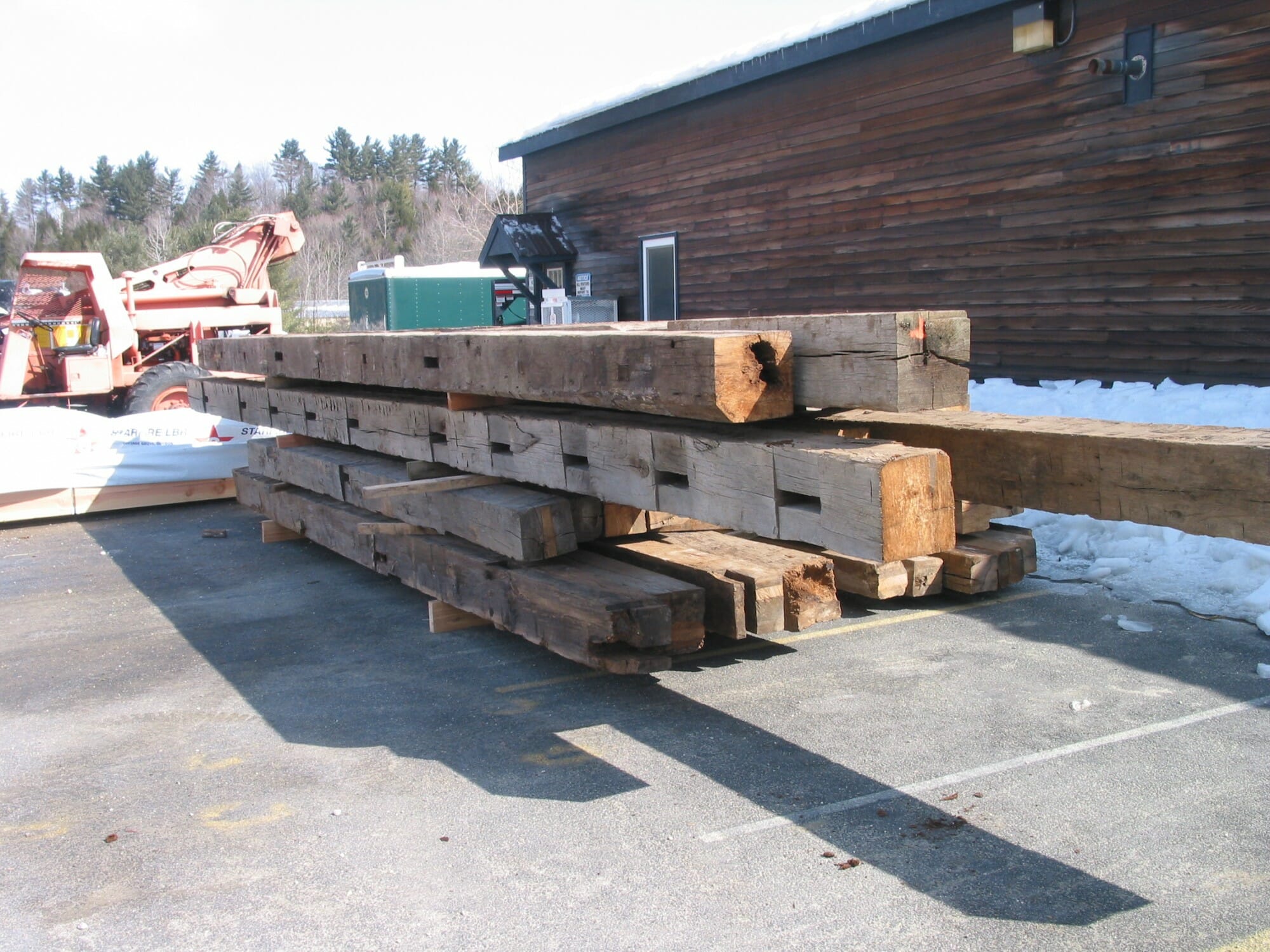 Reclaimed wood is lumber that has been rescued from antique barns, factories, mills, and sometimes even old fences or wine barrels. Vintage wood has had a huge surge in popularity in the last few years, and rightly so. Antique timber is a beautiful, interesting, and green building material that exudes history and durability. But like many of our clients, you may have questions about recycled wood. Well, get ready to learn everything you need to know here!
Many wood SPECIES that were once abundant in the United States are NOW only available in large quantities when reclaimed.
Due to excessive logging in the 1800's as well as a fungal blight in the 1900's, woods such as Longleaf Pine and American Chestnut are difficult to find for building materials unless they have been reclaimed from an antique structure that was constructed before those trees became scarce. These trees had long been lauded for their strength and durability and were the preferred building materials of the time. There are also many exotic species of wood that designers are increasingly wary of incorporating into designs because of the environmental impact but are happy to use when they are recycled and no new trees need to be cut down. Much of the vintage lumber of today is from America's virgin forests from long ago. Those forests are gone now, but the wood from those strong, ancient trees is still around and can be re-purposed and reused.
Sourcing reclaimed wood is like going on a scavenger hunt through history.
Suppliers need to find old, hand hewn barns that are falling down or planned to be demolished, and sniff-out turn of the century structures that no longer serve their purpose. The supply of reclaimed wood, as well as the condition, type, and appearance of the wood, can vary widely depending on what's recently been found and recovered. Once the beams have been stripped from the building, they must be examined closely for signs of rot, splitting, and insect infestation. Then any pieces of metal, such as nails, hooks, or buckshot need to be removed from the logs. In it's original hand hewn state, the logs have a rustic look, but can be very difficult to work with and rather expensive. When reclaimed wood is resawn it has a more finished look while still being antique. Resawing makes the wood easier to work with. It can be a long and intensive process, and sometimes pieces of timber can't be salvaged.
We love reclaimed wood, not just for its aesthetics, but because it is a piece of history and a labor of love.
Part of the appeal of vintage wood is the feeling of history and timelessness that these pieces of lumber create in a home. Antique timber is a little piece of the past that can be incorporated into items and structures we can enjoy today. What was once a 500-year-old tree and stood as a county barn for 100 years, can now be the beams in someone's great room, or the floorboards of their kitchen. There can be history in the details of your home everywhere you look! Our customers love rough hewn wood because it is a green building material. It's much better for the planet to use building materials that already exist and incorporate pieces of old structures into new ones. Reclaimed wood is also thought to be stronger and more durable than wood today because the trees matured for a longer period of time in an environment free from air and water pollution. Aged wood also has a certain look and feel that interior designers have been incorporating into beautiful spaces for years now, and has become a style that people wish to incorporate into their own special living spaces. Stylish, vintage and green? What could be better?!
There are lots of things to consider when thinking about incorporating reclaimed wood into your building project.
One thing to consider about vintage lumber is the time it can take to source enough wood for your project. It can be difficult to find reclaimed timber in large quantities and of exceptional quality. Sometimes enough wood will be sourced and then the logs will be cut and found to be unsuitable for building, and replacements will need to be found. Another thing to think about is the cost. Antique wood is not inexpensive, and often time the cost for materials of such quality and desirability is great. Aged lumber does have its limitations, in that often times pieces will be partially rotten or split. And because reclaimed wood has been popular for years now, it is important to be aware of people that will attempt to pass off newer repurposed wood as reclaimed wood. There are plenty of reclaimed wood knockoffs out there, so always make sure you purchase reclaimed timber from a reputable supplier, such as Trestlewood, or find a trusted company like Vermont Timber Works to choose a reputable supplier for you.
At Vermont Timber Works we can help you source superior reclaimed wood for your project, whether you want full beams of reclaimed Oak or just decorative accents using vintage Chestnut. If you find that reclaimed materials take too long to source, or can't justify the cost, we can also weather and stain timbers that will then take on the appearance of being an antique, but are in fact from a newer, sustainable wood source.
The timber frame is a vintage and time-honored building technique, and when timber framing and reclaimed wood combine, it's a match made in history-lovers heaven! We'd love to chat about using Reclaimed wood for your next Vermont Timber Works project!
Have a question about Reclaimed Wood? Ask the experts!