Vermont Timber Works has worked on many church and chapel projects since the company was founded in 1987. We've been involved in a variety of religious building projects which have included new church construction, church renovation, and historical church reconstruction, as well as expansions and additions. Designing trusses, beams, and arches for church and chapel interiors have become one of our areas of expertise and one of our favorite kind of projects to work on. Grand structures with expansive trusses, cathedral ceilings, and beautiful interiors are the result of these design requests. At Vermont Timber Works, we love working with churches because of the grandeur and magnitude of the trusses we are asked to design and build for those spaces.
Design
Church designs will vary project by project. Every job seems to incorporate different designs and styles. Because churches and chapels generally have large expanses of space to work with it offers a lot of flexibility as to what design and design elements can be selected. The shape and size of the chapel needs to be designed and it needs to be decided whether the chapel will be square, rectangular, rounded, or even an octagon shape. Not only does the room itself have a variety of shapes and styles to choose from, but the trusses that adorn the high ceiling come in a variety of styles as well.
Trusses are designed to be structurally functional as well as beautiful, and the truss design will also relate to the structures engineering needs. Like a hammer beam truss can be chosen for the chapel but buttresses will be needed or else the hammer beam trusses will have to be modified to meet the load requirements. Or a team may decide that they want 6 scissor trusses in the space, but to make it work the scissor trusses will require steel tie rods. Sometimes people will like the look of steel components even when it's not structurally necessary, and we can accommodate that in the truss design as well. Then there are also the choices of wood textures, either rough sawn, planed, or hand hewn. And finally, there are stains to choose from. The great part of a church project is having the space and desire to do some truly extraordinary designs that are completely custom and unique to each project.
Read More: Basic Truss Styles
The Process
The process for designing, planning, and building a church can take longer than it will for your average home or barn project. This is due to the total magnitude of the project including the scope of the work itself as well as the number of people and teams involved in deciding and agreeing on all the project variables. The raising of funds by the congregation that will make the project vision a reality can also add some time to the process if those aren't in place from the beginning. Vermont Timber Works has happily worked with church leadership boards as well as contractors, architects, and other building partners who all have to come together with a shared goal for the church.
Once the plan for the church is in place and everyone has agreed to the plans, design, and the budget, the church will then begin fundraising. Every project and every church is different and the amount of time this can all take will vary. But once that is completed and agreed upon, the contract can be signed, the materials can be ordered and Vermont Timber Works can begin the custom fabrication of the Timber Frame, Trusses, or Arches, that will make up the church.
Read More: The Time Frame of a VTW Timber Frame
Fabrication
Once the timber has arrived at our Vermont Workshop we can begin cutting and fabricating the timbers according to the church's custom design. This is where the decisions that have been made earlier in the process come into play like what wood texture the timbers should be as well as what stain to use. If steel is needed or desired for the frame, those components will be fabricated at this time as well. Once all the components of the frame have been completed in our workshop, we'll get them ready to ship to the build site or to bring them to the site ourselves if we've been asked to erect the frame.
Read More: What Wood Species Should I Build With?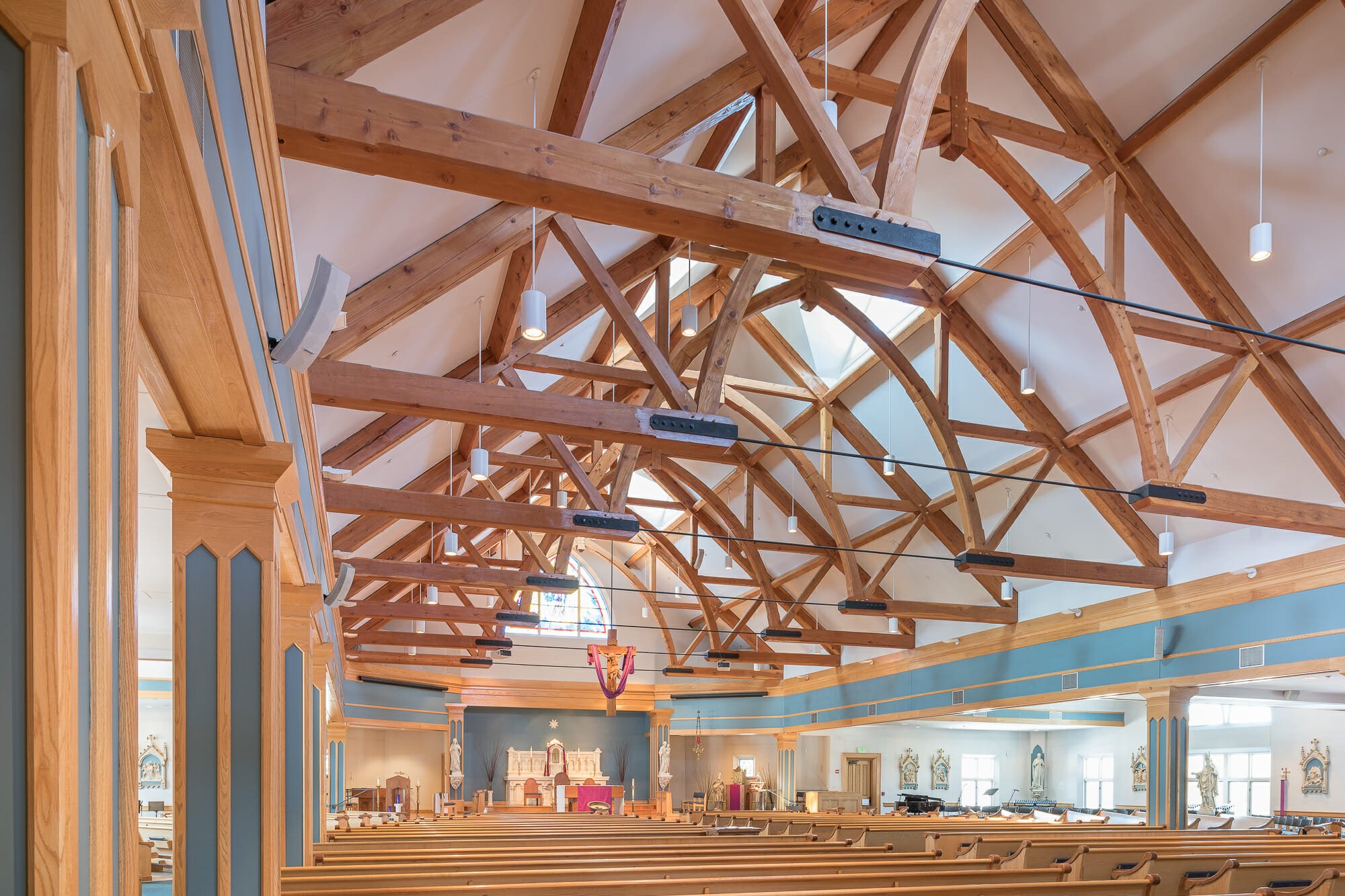 Raising
When building your new church or chapel, you can either choose to have Vermont Timber Works' crew come to the build site and erect the timber frame, or you can employ a contractor to do it and have VTW ship the disassembled frame to you. Our skilled timber frame crew that comes to erect our frames is the same group of craftsmen that fabricated the frame in our workshop. Our crew enjoys raising what they've built, and are the experts at the fastest and most efficient way of raising the frame and making sure it all goes according to plan. Not to mention it's always especially rewarding to be able to see a project from start to finish.
Read More: Traditional Joints Used in Timber Framing
Historic Church Reconstruction
As well as designing and fabricating trusses for new church building projects, Vermont Timber Works has also worked with existing religious institutions on historic restoration projects of trusses or timber frames that may have been damaged due to age or fire. Because we stick to traditional joinery and the timber frame tradition, we're happy to design trusses that need to replicate older trusses and to work with a team that has exacting standards for how the timber frame must be designed, fabricated and installed to ensure it is a historically accurate addition to the building.
Read More: The Church of St. Michael the Archangel
Are You Ready To Build A New Church or Chapel?
Vermont Timber Works enjoys designing, fabricating, and building churches, chapels, temples, and religious centers of all kinds, including new buildings and historical reconstructions. We've been working with Churches on building projects for 30 years and understand the specific needs and challenges this type of building will face and require.