Public Timber Frames You Can Visit In New England
We often have people ask if they can see one of our timber frames in person. Our answer to that is absolutely! There are Vermont Timber Works timber frames scattered throughout the country and we've worked with great people over the years, so the frames are located at some really cool public places. Here's a list of the frames you can visit in New England. There's an address and website for each frame. Also, feel free to contact our sales team (Sue or Derek at 802 886 1917) if you have any questions about the frame you're planning to visit. They'll be happy to chat with you!
New Hampshire
Coastal Conservation Center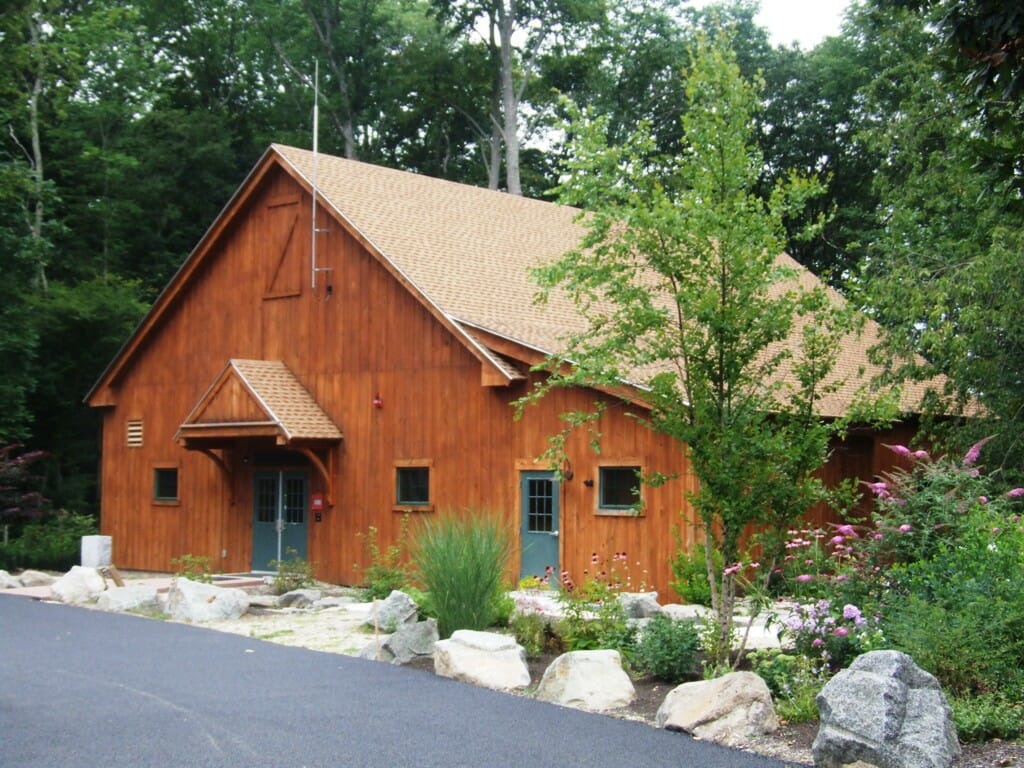 Great Bay Discovery Center, 89 Depot Road, Greenland, NH
The Great Bay Discovery Center is an estuary research reserve. The timber frame we constructed is for the Conservation Center, which hosts land & science exhibits. The timber is rough-sawn hemlock. In addition to checking out the frame, you can hike, kayak, and watch wildlife at this reserve.
http://greatbay.org/visit/index.htm
Vermont
Trapp Family Lodge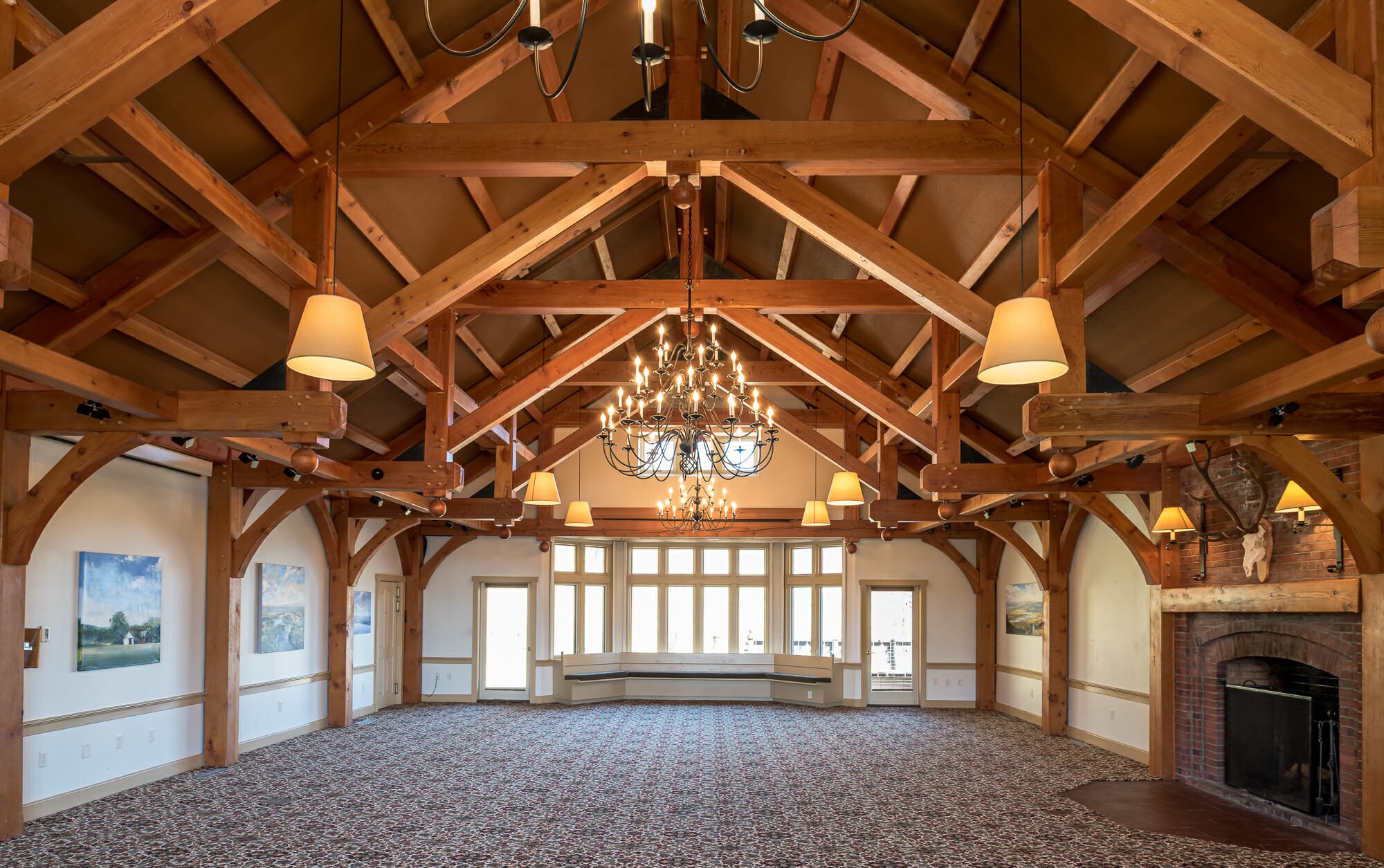 700 Trapp Hill Road, Stowe, VT, 05672
The Trapp Family Lodge is at Stowe Mountain in Stowe, VT. The Vermont Timber Works frames for the lodge were constructed using planed-smooth, douglas-fir timber. Stowe is a beautiful place to visit all year round. The hiking is great during the spring, summer, and fall, and the winter season, of course, is great for skiing.
http://www.trappfamily.com/location.htm
Vermont Welcome Center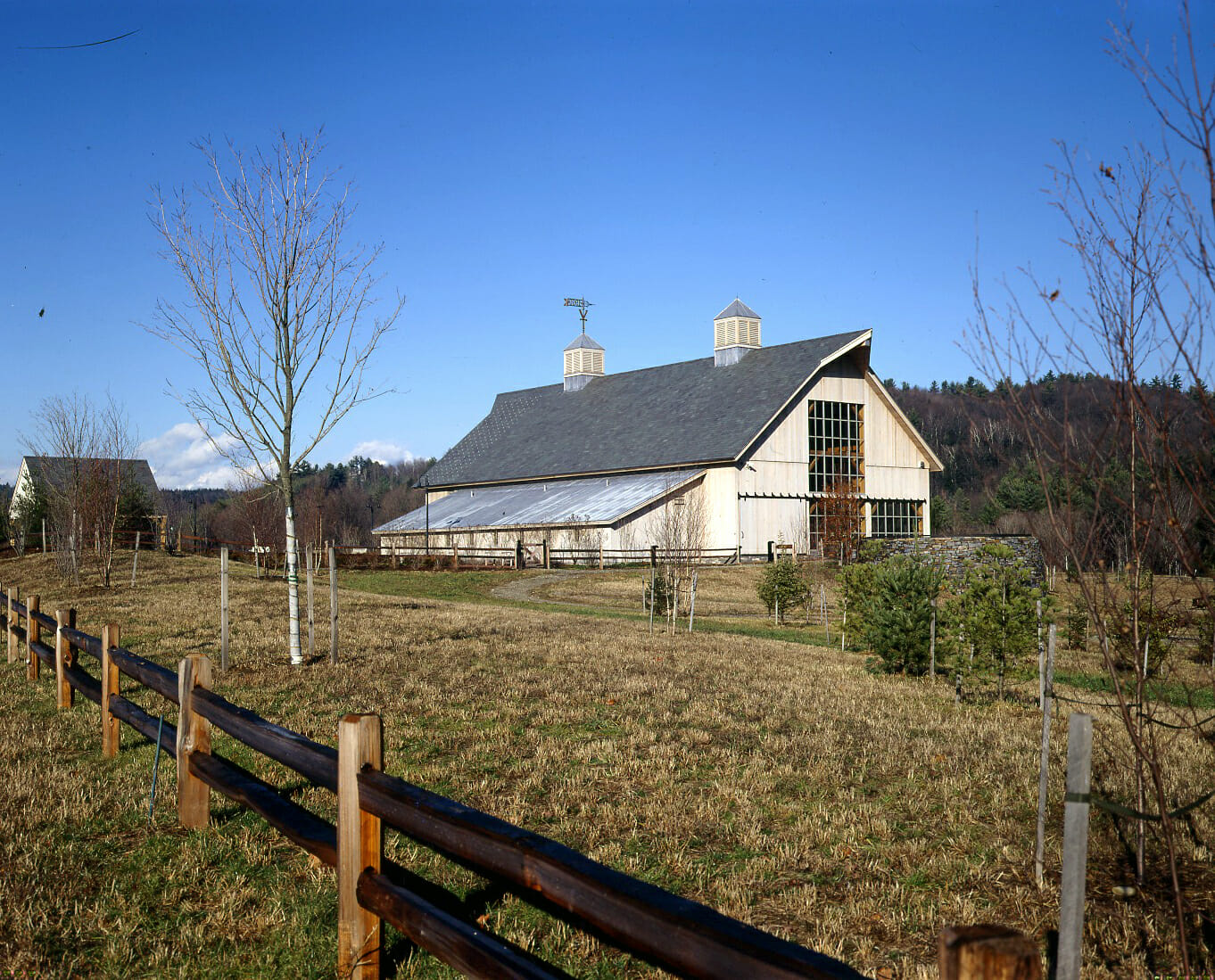 1235 Broad Brook Rd, Guilford, VT 05301
I love the Vermont Welcome Center! It's been there for me — with restrooms and snacks– on many long drives. It's surrounded by the Green Mountains, so its a beautiful place to eat outside at a picnic table. Inside, there are historical Vermont displays and pamphlets with information about the state and state activities. The frame for the main building is hand hewn hemlock. The pavilions at the welcome center are oak.
http://informationcenter.vermont.gov/centers/guilford
Vermont Teddy Bear Factory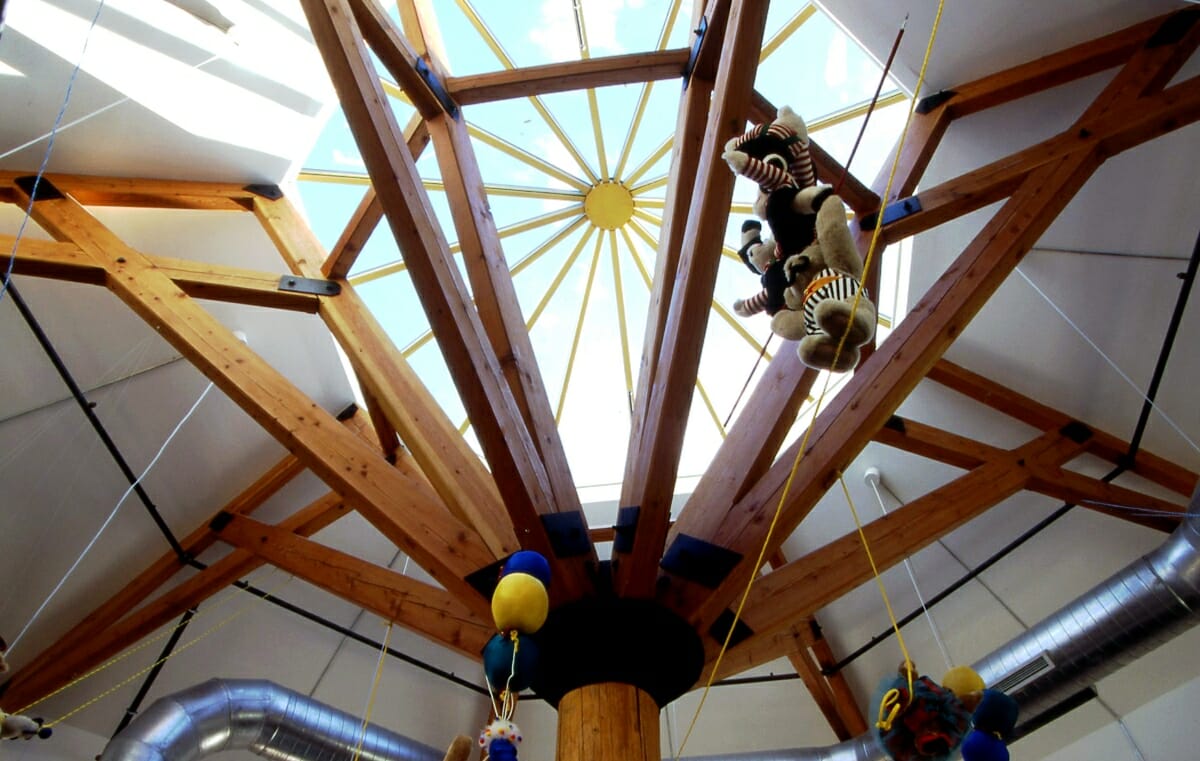 6655 Shelburne Road, Shelburne, VT, 05482
The Vermont Teddy Bear Factory is in Shelburne, VT. It's a fun place to go with kids. You can explore the factory & make your own custom teddy bears. The frame for the teddy bear factory is douglas fir. There are king post and scissor trusses at the factory. All of the trusses are reinforced with steel plates that are painted black.
http://www.vermontteddybear.com/Static/Tour-Essentials.aspx
Founders Lodge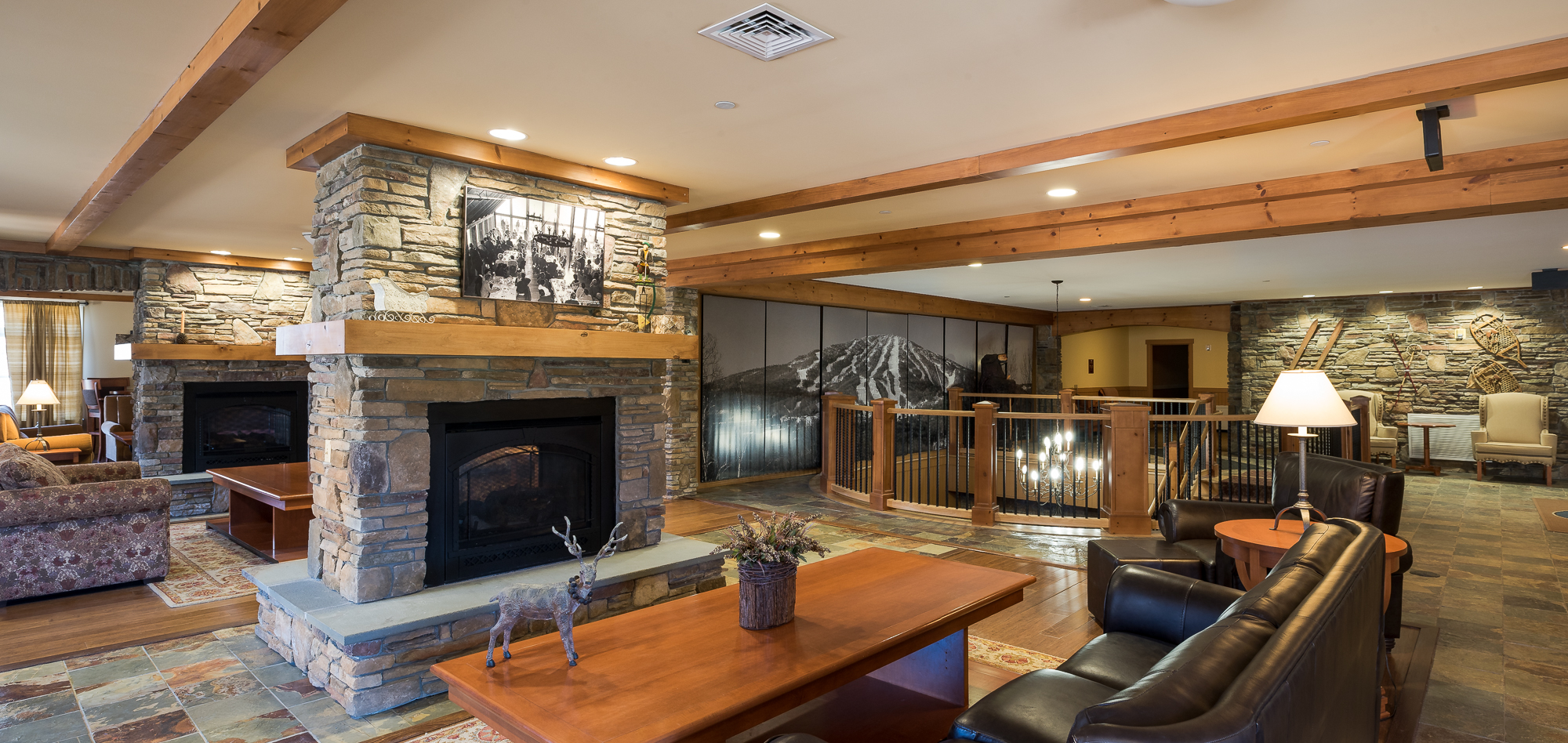 5 Village Lodge Rd, Stratton Mountain, VT, 05155
Founders lodge is at the base of Stratton Mountain in Southern, VT. The timber at the lodge is planed smooth douglas fir. We supplied a porte cochere frame, balcony trusses, and interior beams for the lodge.
http://www.stratton.com/plan-your-trip/lodging/lodging-on-mountain/founders-lodge.aspx
Spruce Peak Base Lodge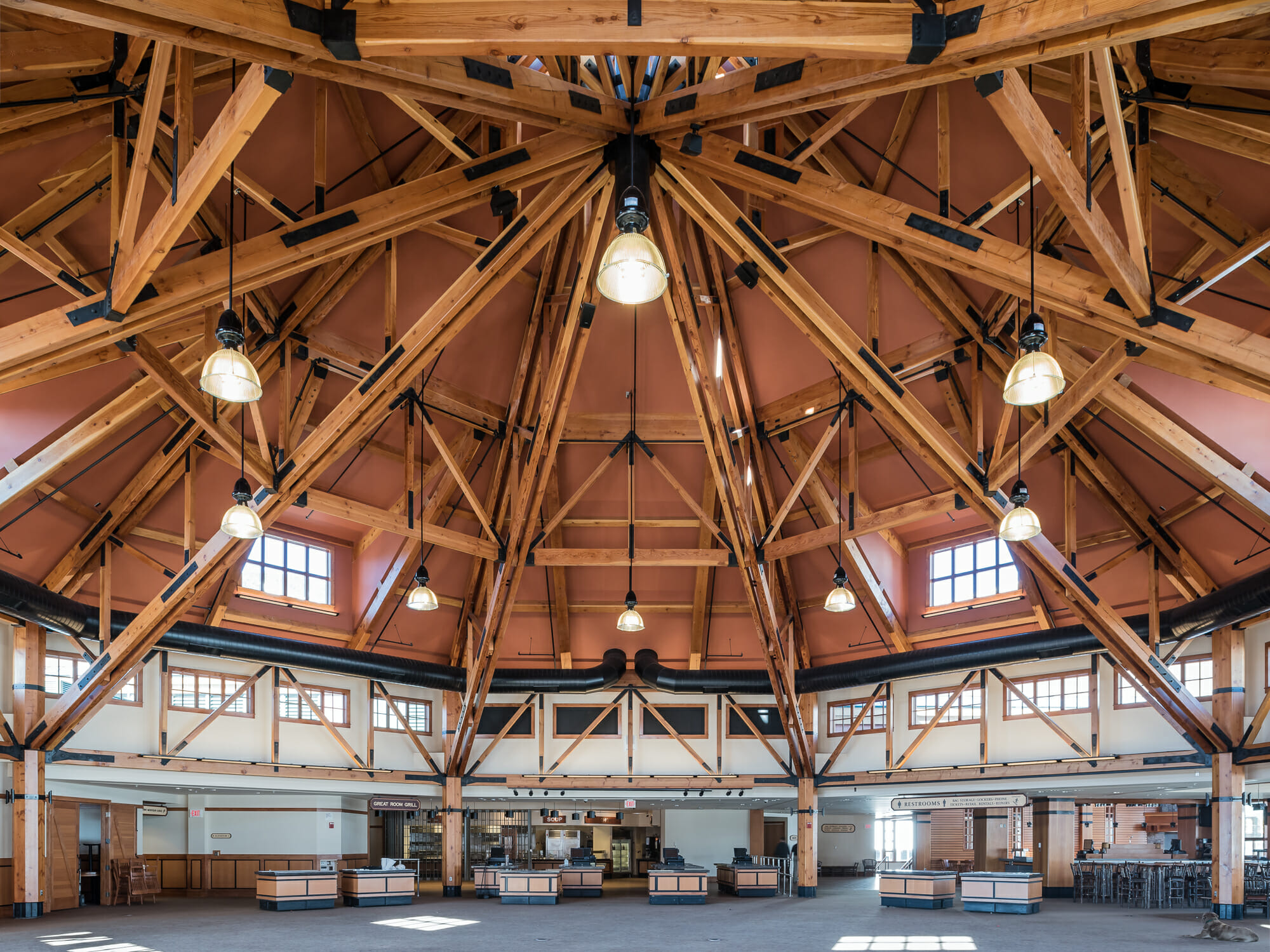 7416 Mountain Rd, Stowe, VT, 05672
The Spruce Peak Base Lodge is awesome, and so is the drive up to it! There are winding roads with beautiful mountain views. It's in the same area as the Trapp Family Lodge so you could visit both frames on the same trip. Vermont Timber Works supplied an 80′ span octagon frame for the spruce camp lodge. The timber is douglas fir.
http://www.sprucepeak.com/spruce-camp-base-lodge
Jay Peak Ski Resort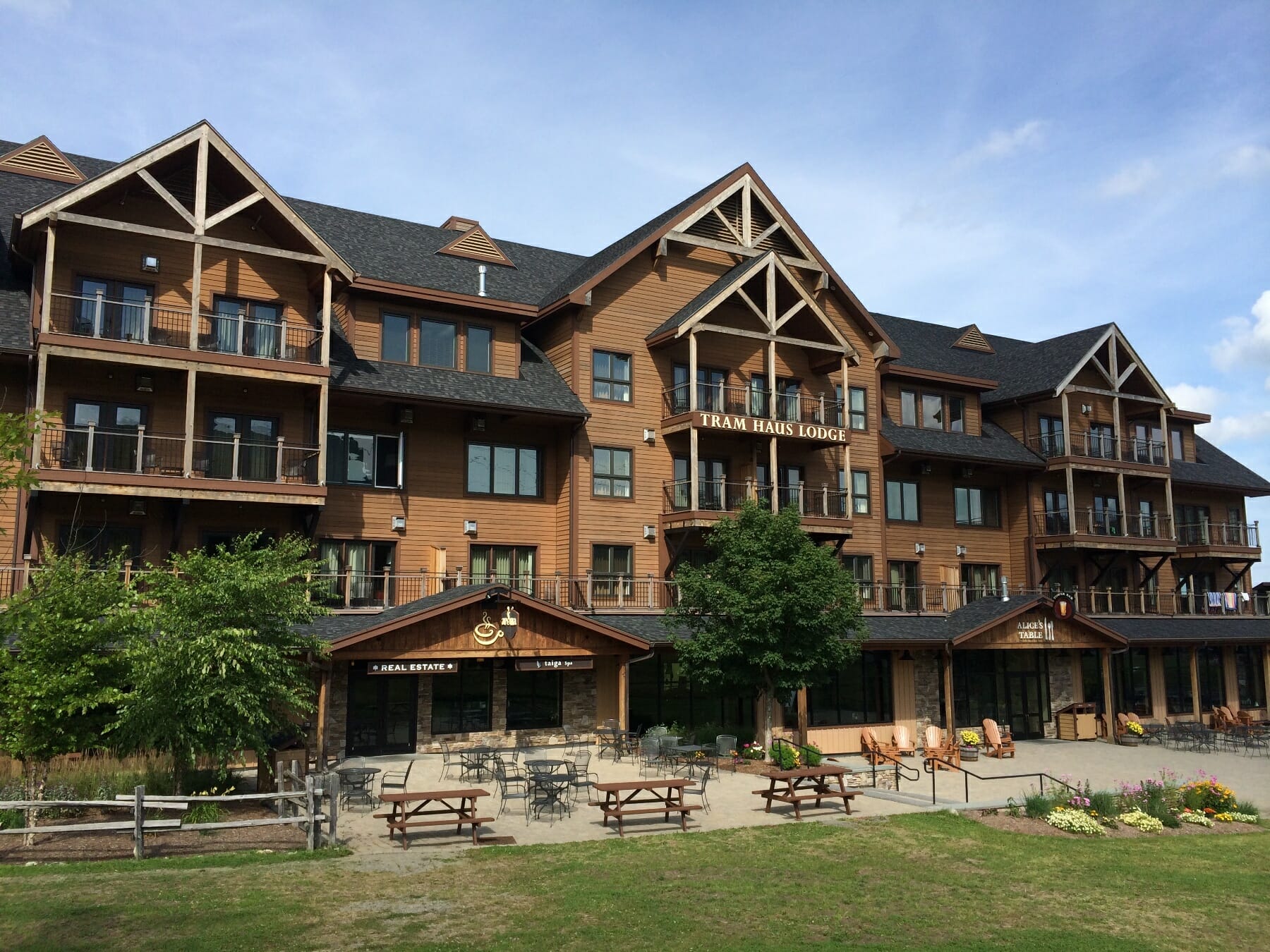 830 Jay Peak Road, Jay, VT, 05859
Jay Peak Ski Resort is in Jay, VT. Like the other lodges, the skiing here is awesome. There is also a really cool indoor water park at Jay Peak. Vermont Timber Works supplied balcony trusses and a porte cochere for the resort.
http://jaypeakresort.com/about/getting-here/
Middlebury College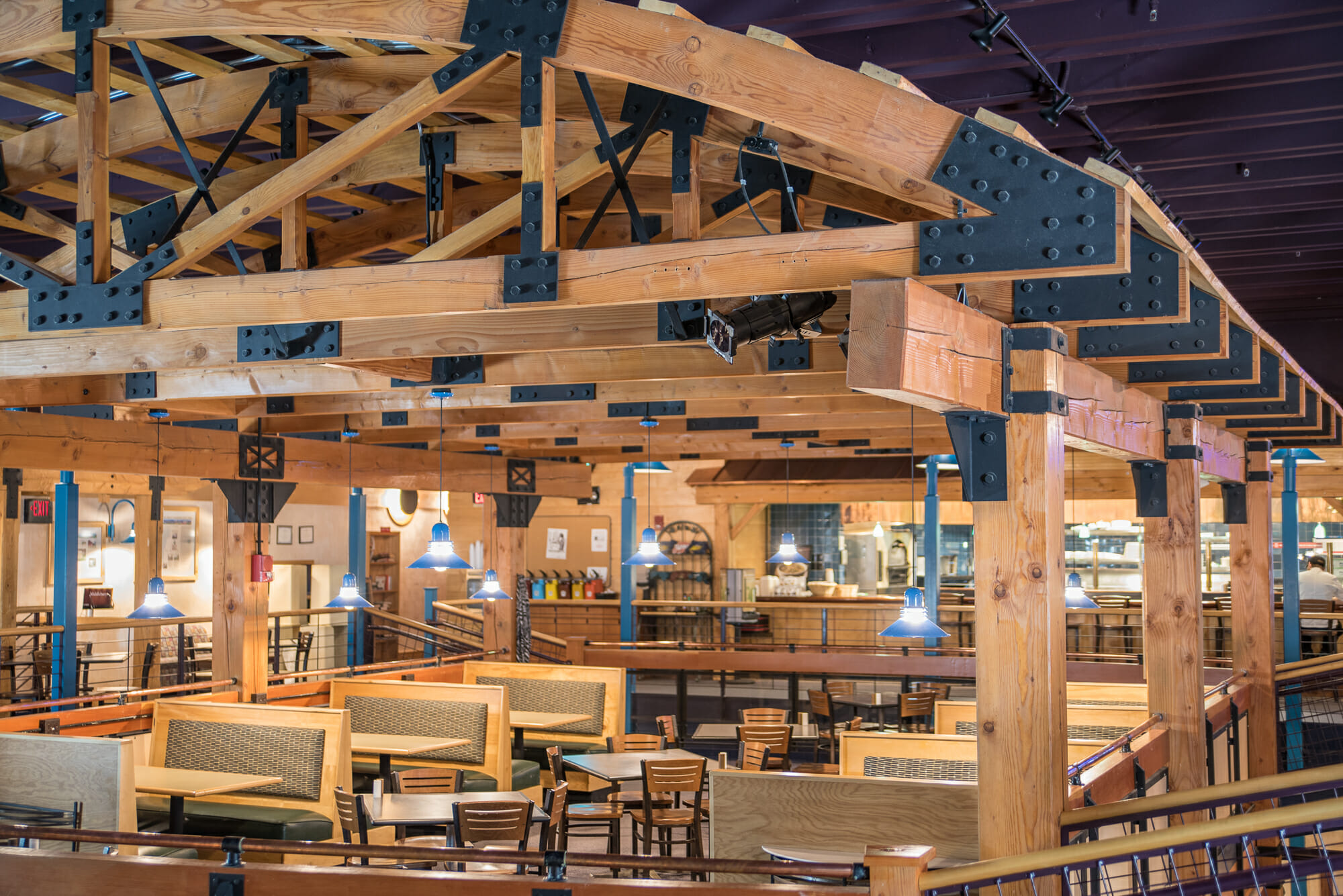 14 Old Chapel Rd, Middlebury, VT, 05753
Middlebury College is in Middlebury, VT, which is a very cute, small VT town. There are quaint stores and restaurants in the area. Vermont Timber Works supplied a two story frame for the school's cafeteria and two pergolas. The timber is douglas fir. The trusses are reinforced with steel plates that are painted black.
http://www.middlebury.edu/about/campus/directions
Billings Farm & Museum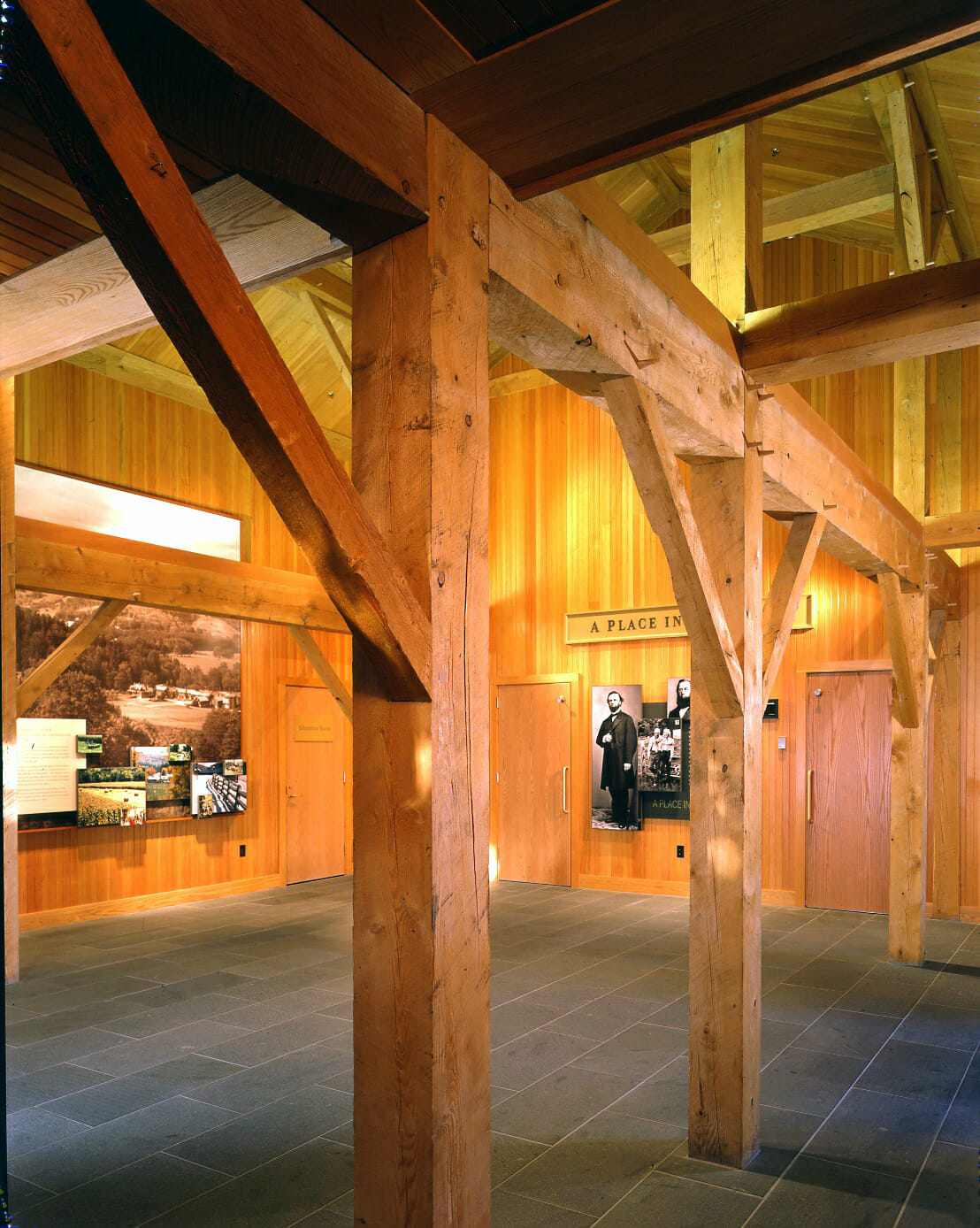 5302 Old River Road, Woodstock, VT, 05091
Billings Farm is both a farm and a museum in Northern, VT. It has exhibits and activities related to Vermont farm life history, Vermont traditional culture, and human interaction with the environment. Vermont Timber Works supplied a frame for a theater and a frame for the entrance. The timber is rough sawn hemlock.
http://www.billingsfarm.org/visit/index.html
Massachussets
Brigham Hill Barn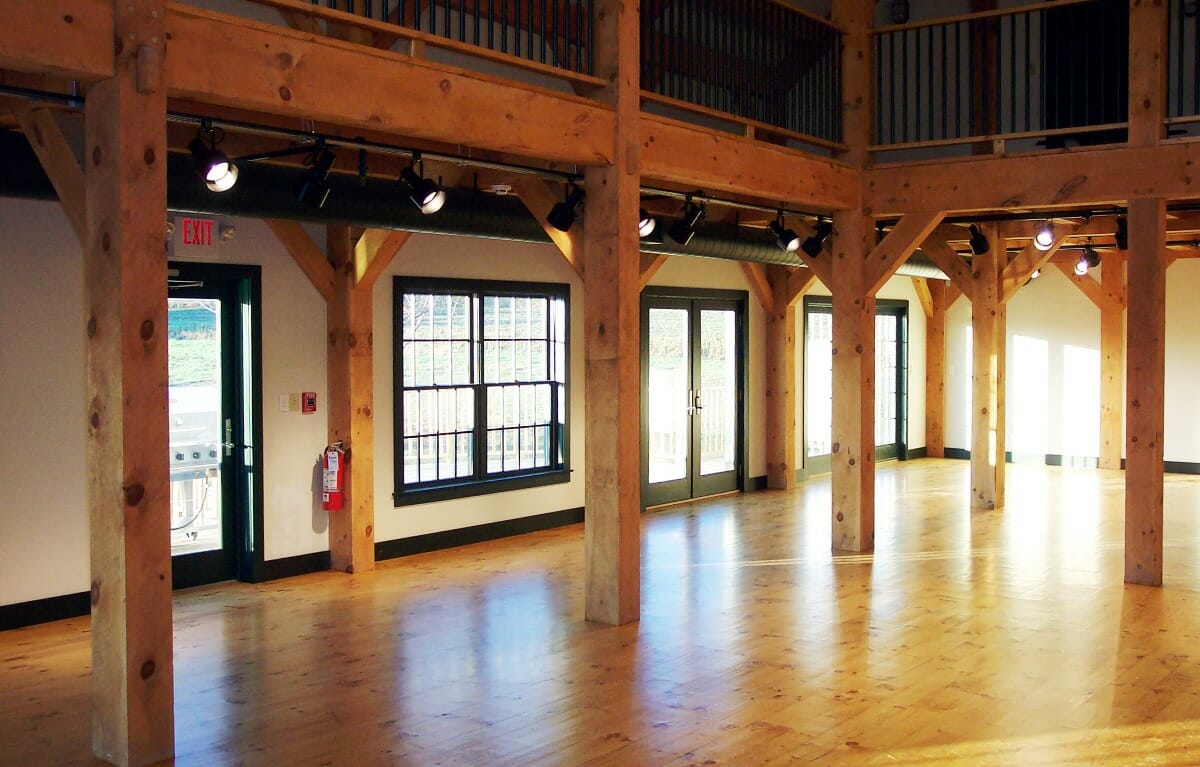 37 Wheeler Rd, Grafton, MA, 01536
Brigham Hill Barn is a community barn. It's the head quarters for two non-profit organizations: The Community Harvest Project and the Grafton Land Trust. The barn is semi-public. If you want to visit, you may have to get in touch with someone from the barn beforehand. There is contact information on the barn website. The barn has a rough sawn hemlock and white-pine frame.
Connecticut
Holy Apostles College & Seminary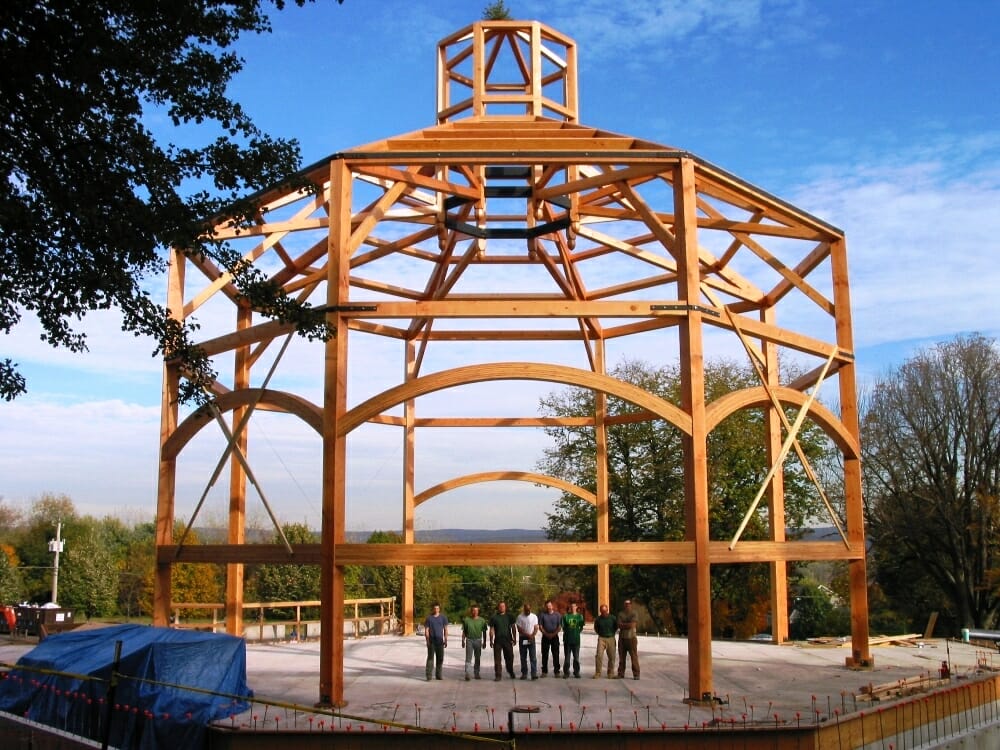 33 Prospect Hill Rd, Cromwell, CT, 06416
Holy Apostles College is in a small, quiet town in Cromwell, CT. It's about 30 minutes south of Hartford. Vermont Timber Works supplied a 60′ span octagon frame for the seminary.
Cornwall Library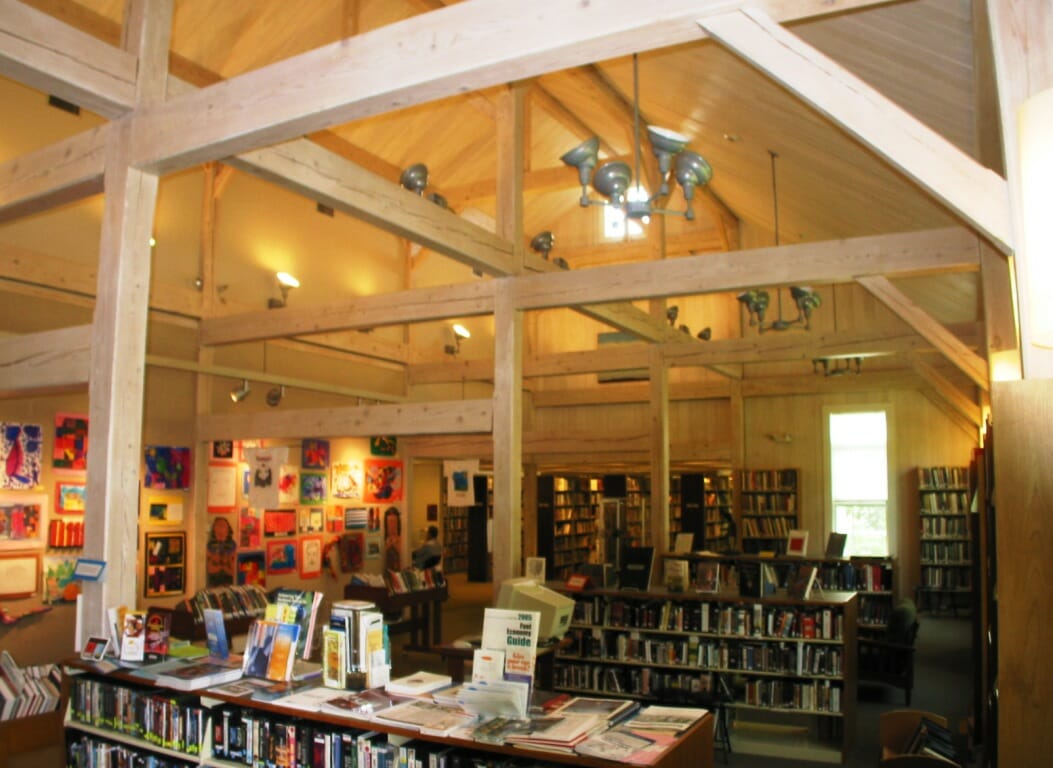 30 Pine St., Cornwall, CT, 06753
The cornwall library is also in a small, CT town. It has a general selection of books and an extensive art book collection. Vermont Timber Works supplied a white-washed hemlock frame for the library.
Deer Lake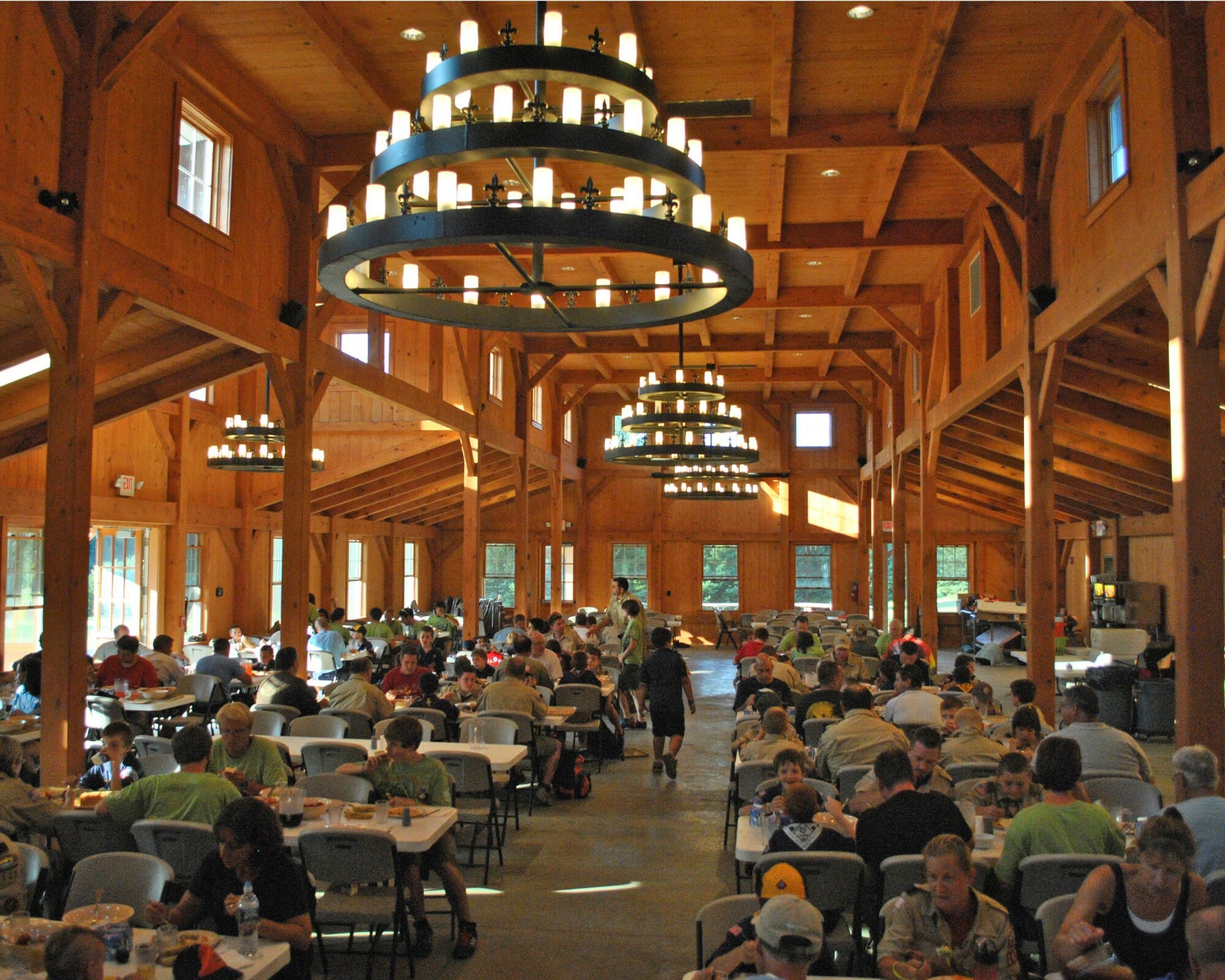 101 Paper Mill Rd, Killingworth, CT, 06419
Deer Lake is a camp on a 253 acre property with streams, woodlands, fields, and two private lakes. You may have to get in touch with the camp to request a visit. The frame for the dining hall is a hybrid. There is conventional and timber framing.
http://www.deerlakecamp.org/contact.php
Maine
Westbrook Middle School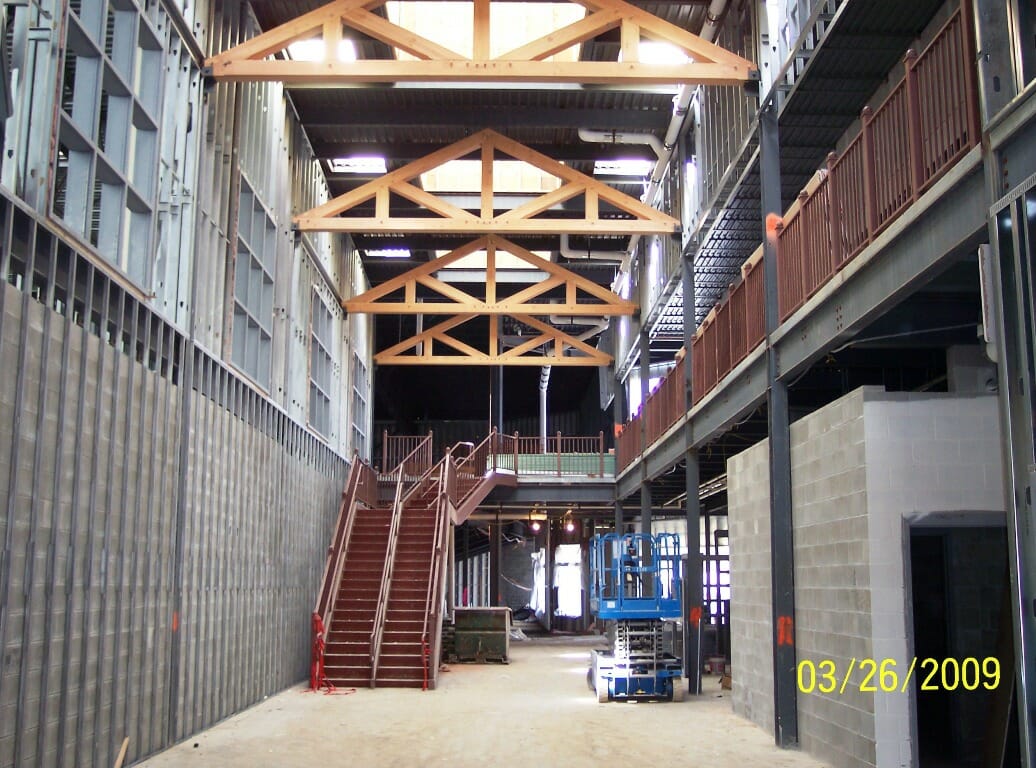 471 Stroudwater St., Westbrook, ME, 04092
This one you probably have to get in touch with the school as well to schedule a visit. Vermont Timber works supplies douglas fir king post trusses for the middle school.
https://sites.google.com/a/westbrook.k12.me.us/wms/
Thanks for stopping by our timber framers blog! If you like this post, or have timber work questions, we invite you to get in contact, ask an expert, or share your thoughts in the comment section below.